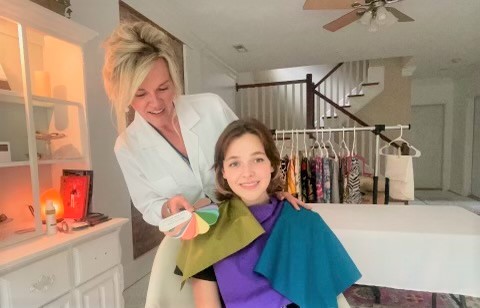 Find the colors that make you sparkle
Your most flattering colors will make you sparkle and glow! I hear this time and time again from clients who receive countless compliments once they start wearing colors from their personalized palette.
You know when you look amazing! Your eyes sparkle, people pay you compliments and your face lights up!
The best part? That's the real you- and I can help you feel like that every day.
What does an image consultant do? Most of my clients are seeking help with their style. I teach them clothing looks best on them based on body type and personal coloring. Using my skills and training I transform your image to give you self-confidence and a different outlook on life!
Where are you located? My beautiful home studio is a 45-minute drive from downtown Charlotte. We are located in Stanfield, NC. It is a picturesque drive out to the country and you will feel your stress melt away as you make your way out here. If you prefer not to make the trip, I am available to do virtual sessions as well.
Appointment times available; Saturday, Sunday & Monday.
Please Allow 30 minutes for Color Analysis and
30 Minutes for Silhouette Analysis.
If you're looking for your best colors, the Feel & Look Gorgeous Package is for you.  
You will receive a 40 color, one-of-a-kind color palette with all of your perfect colors.  
After your receive your palette in the mail, I will schedule a phone call or send a video and show you how to use your brand new palette.
If you want to know how to dress to best flatter your figure, the Savy Style Package is your key to success!
Having a personalized guidebook like this is key to looking your best, every time you walk out the door.
Our Most Popular Offering!
The Complete Package combines both the Color Palette and Silhouette Analysis together.